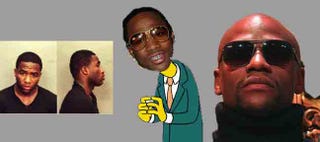 Adrien "The Problem" Broner defeated Paulie Malignaggi last month, confirming his status as the hottest rising star in boxing. At the same time, Broner sits at the forefront of a disturbing trend, one that has a very real potential to derail the sport. The Sweet Science can be a brutal sport and an equally brutal business, so it should come as no surprise that it has always attracted its share of troubled figures and vile personalities. What is new, however, is that instead of obscuring these ignoble tendencies, or reluctantly acknowledging them and quickly moving on, a new generation of fighters has begun to aggressively market them. For some, it seems to be the core of their identity. It is the rise of the boxing supervillain.
Meet Adrien Broner. Adrien Broner is, in many ways, exactly the sort of guy boxing needs. He is photogenic, exceedingly comfortable in front of a microphone, a natural showman, and freakishly talented. He already possesses a signature move – sort of his own version of the Icky Shuffle – in which his almost perfectly spherical father dramatically brushes Broner's hair after a victory, with a member of his sizable entourage often holding up a mirror. In combat, his hands seem to move faster than your eyes can follow – certainly faster than his opponents' eyes can follow – and when they connect, it is often with devastating impact. He is physically capable of knocking out any fighter below 147 lbs with a single punch. His defense, while still a work in progress, is made potent by his superior reflexes and patience. On paper, he has everything a young fighter needs to climb to the top of any pound for pound list and all the qualities needed to be a marketable star. But that's not the end of the story.
Adrien Broner is a detestable person. And I'm not talking about his pompous behavior – Broner made a show of flushing his unwanted $20 bills down the toilet even though he already has accumulated five children to care for at the age of 23 – the outrageous antics involving Paulie Malignaggi's ex-girlfriend, or even his often indifferent attitude in the ring. No, I am talking about his genuinely sociopathic behavior. He recently declared on Twitter that "ungrateful females deserve to be killed!!!!" Earlier this year, he was arrested in a drunken brawl with a man who allegedly mocked his rented Rolls Royce. The arrest is simply the latest in a string of troubles with the law, which has included arrests for assault and battery, carrying a concealed weapon, witness intimidation, and aggravated robbery. Broner is not only a stupid, spoiled brat, he's a dangerous one.
And he is proud of it. When Broner was arrested earlier this year, he rushed to Instagram to post his own mugshot. He seems to revel in the boos and the catcalls, in the outrage that his ridiculous statements invite. He wants to be hated. He wants to be the villain. He wants to be … Floyd Mayweather.
Yes, of course, before there was Broner, there was "Pretty Boy" Floyd Mayweather, who deserves all the credit for successfully adapting the "heel" personality of professional wrestling to boxing. Mayweather is loud, obnoxious, and offensive. And, like Broner, Mayweather has a genuine criminal history lest you think the bad guy persona is all an act. Also like Broner, he seems to have a hopelessly misogynistic attitude that is often supplemented with physical violence.
In 2002, Mayweather was convicted of beating Melissa Brim, the mother of his daughter, although he managed to avoid jail time.
In 2003, Josie Harris, the mother of three of Mayweather's children, accused him of beating her, but later recanted her story during Mayweather's trial.
In 2005, Mayweather was convicted of the unprovoked attack of two women outside a nightclub and sentenced to undergo anger management.
In 2010, Mayweather was arrested for (and eventually pleaded guilty to) a separate assault against Harris; this time, he received a 90-day jail sentence.
In between these incidents, Mayweather has been directly or indirectly implicated in a number of crimes, including a shooting at a Las Vegas ice skating rink, in which the victim had previously clashed with Mayweather. Through it all, Mayweather has remained publicly defiant and unapologetic. If anything, he has embraced and reinforced the negative publicity.
"Wait," you say. "Boxing has always had its villains." Perhaps, but never in the way they exist today. Sonny Liston had a long arrest record and was known as cold and menacing, but he never went out of his way to antagonize his audience. Liston's eventual conqueror, "The Louisville Lip," Muhammad Ali, said some genuinely despicable things about his opponents (especially Joe Frazier) but he always craved the public's approval and applause. He may have been polarizing – though who wasn't in the 1960s and 70s? – but he was also an unapologetic media darling. Even Mike Tyson, "The Baddest Man on the Planet," was a crowd favorite throughout his prime, when he did double duty as the smiling pitchman in commercials for Diet Pepsi. Of course, Tyson then spiraled downward with a conviction for rape, the infamous ear-biting fight with Evander Holyfield, and a seemingly endless string of offensive statements to reporters and other fighters. But, even at his worst, you never got the sense that Tyson wanted to be the villain. What you saw instead was a severely emotionally unstable man whose life had spun out of control. That's very different than the intentional, willful promotion of antisocial behavior that characterizes Mayweather and Broner.
Okay, but so what? After all, Mayweather has made himself into the most marketable star in all of sports in spite of a defense-first style that appeals only to the most patient boxing purists. Maybe a sport like boxing needs guys like Broner and Mayweather to keep it relevant and competitive in the modern sports environment, where tabloid storylines are as important to ticket sales as win-loss records. That's clearly what Broner has concluded in deciding to so meticulously replicate Mayweather's persona.
They say no publicity is bad publicity, but that isn't always the case, especially in individual sports. From Ruffian, to Go for Wand, to Barbaro, every nationally-televised racehorse fatality that resulted in widespread publicity only served to further chip away at that sport's dwindling fan base. The same could be true for boxing. It is one thing for the public to disassociate the actions of a single a player on a team from the sport – for example, whatever happens to Aaron Hernandez is unlikely to impact the prospects of the NFL or the Patriots in the long term. It would be quite different, however, for boxing to avoid being tarred with the same brush that paints its star athletes. Right now, there are only two universally known boxing stars – Mayweather and the rapidly-fading Manny Pacquiao. By this time next year, it is hardly unreasonable to expect that the two biggest stars in the sport will be Mayweather and Broner. And, unfortunately, it is equally reasonable to imagine that, by this time next year, one or both could be in jail for a serious offense.
The impact to the sport would be devastating. Not only would it lose one (or both) of its most talented stars, it would be impossible to separate the boxing industry from the guilt of the man involved. That's not only because their names and faces are so intimately connected with the sport, but because the sport is, at best, indirectly complicit in promoting this type of behavior. When Tyson bit Holyfield's ear in the ring, in the heat of a boxing match, he was given an indefinite suspension from the sport. When Mayweather was convicted of his third violent out-of-the-ring assault against a woman, representatives from the sport successfully lobbied the court to delay his sentence in order to allow his planned fight with Miguel Cotto to go forward. When he was released from jail, his punishment was receiving the most lucrative television contract in the history of sports from CBS/Showtime. And, last month, just days after Broner had tweeted a death threat against all "ungrateful" women, the announcers on Showtime didn't say a word about it during the telecast. If either of these two ticking time bombs blows up in boxing's face, the industry will have only itself to blame.
I grew up a fan of professional wrestling, so I enjoy a good heel storyline as much as anyone. But a funny thing happened to the professional wrestlers I grew up watching: one at a time, the storyline slowly ceased to be an act, and they wound up in jail or, far too often, dead. It is now all but impossible for me to think of professional wrestling without thinking of Chris Benoit. I desperately want better for boxing and there is still time for the sport to save itself. To do so, it needs to have the guts to look Floyd Mayweather, Adrien Broner, and whoever chooses to follow in their footsteps, square in their eyes, and tell them to clean up their act, even if that costs the sport a few pay per view buys in the short term. Because, right now, the sport has handcuffed itself to a pair of suicide bombers, and there may not be any fans left once that bomb finally detonates.