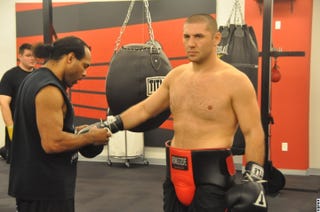 Two weeks. We made it two damn weeks.
The sport had not had time to mourn the passing of Franky Leal when Magomed Abdusalamov stepped into the ring last night against "Irish" Mike Perez. In a rare departure from recent heavyweight fights, it was a fun scrap. Both men displayed plenty of shortcomings, but that made for an exciting fight, as they traded an unusual number of punches for big men. Neither man went down, but both were wobbled on several occasions. By the middle rounds, it was clear that the slicker Cuban fighter, Perez, was outboxing the hulking, awkward Abdusalamov, but "Mago" remained a danger to stop the fight at any point with one of his massive winging hooks.
As we watched the brutish looking Abdusalamov absorb punishment, most of us didn't recoil in horror - we laughed. We laughed when he asked his corner if he had a broken nose after the first round (he did). We laughed again a few rounds later when he asked if his face was really swollen (it was). We laughed because fighters don't ask those sorts of questions. We laughed because Mago, of all guys, looked invulnerable to damage, especially from a smaller opponent with no significant wins on his resume. We laughed because Jim Lampley could do no better than guessing that "something is broken in his face." We laughed because it somehow all seemed so pathetic compared to the usual inspirational back and forth between a fighter and his corner. I thought it was funny enough to tweet some idiotic nonsense.
This morning, we found out that it wasn't funny. The invincible looking Mago is just another human being, a human being who bleeds inside and out, and in this case, in his brain. The invincible looking Mago is now in a medically induced coma as doctors try to manage a blood clot on his brain. Two weeks. Two weeks since I wrote this. Two weeks and a few drinks was all it took for me to ignore the horror and laugh as a man absorbed a brutal beating to his skull, perhaps to his death.