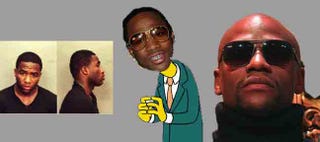 Adrien "The Problem" Broner defeated Paulie Malignaggi last month, confirming his status as the hottest rising star in boxing. At the same time, Broner sits at the forefront of a disturbing trend, one that has a very real potential to derail the sport. The Sweet Science can be a brutal sport and an equally brutal business, so it should come as no surprise that it has always attracted its share of troubled figures and vile personalities. What is new, however, is that instead of obscuring these ignoble tendencies, or reluctantly acknowledging them and quickly moving on, a new generation of fighters has begun to aggressively market them. For some, it seems to be the core of their identity. It is the rise of the boxing supervillain.
Meet Adrien Broner. Adrien Broner is, in many ways, exactly the sort of guy boxing needs. He is photogenic, exceedingly comfortable in front of a microphone, a natural showman, and freakishly talented. He already possesses a signature move – sort of his own version of the Icky Shuffle – in which his almost perfectly spherical father dramatically brushes Broner's hair after a victory, with a member of his sizable entourage often holding up a mirror. In combat, his hands seem to move faster than your eyes can follow – certainly faster than his opponents' eyes can follow – and when they connect, it is often with devastating impact. He is physically capable of knocking out any fighter below 147 lbs with a single punch. His defense, while still a work in progress, is made potent by his superior reflexes and patience. On paper, he has everything a young fighter needs to climb to the top of any pound for pound list and all the qualities needed to be a marketable star. But that's not the end of the story.
Adrien Broner is a detestable person. And I'm not talking about his pompous behavior – Broner made a show of flushing his unwanted $20 bills down the toilet even though he already has accumulated five children to care for at the age of 23 – the outrageous antics involving Paulie Malignaggi's ex-girlfriend, or even his often indifferent attitude in the ring. No, I am talking about his genuinely sociopathic behavior. He recently declared on Twitter that "ungrateful females deserve to be killed!!!!" Earlier this year, he was arrested in a drunken brawl with a man who allegedly mocked his rented Rolls Royce. The arrest is simply the latest in a string of troubles with the law, which has included arrests for assault and battery, carrying a concealed weapon, witness intimidation, and aggravated robbery. Broner is not only a stupid, spoiled brat, he's a dangerous one.